Preliminary :
In December 2016, I changed country and house. Goodbye France and Clermont-Ferrand, back to Reunion island where I was born with almost all of my hifi collection.
I have 3 rooms that can be used for HiFi here. The living room which is big but open everywhere, a small TV room (437cm x 308cm) which will be converted in a movie and audio theater and the office room (350cm x 350cm) this article is about.
Unfortunately, my big speakers won't properly fit inside any of these rooms. The Sony APM-8 will go to the living room, more as decorative items than for a high-end system, the audio theater room will see some Sony APM-66ES first and maybe the Sony APM-4 or APM-6 after restoration and I decided to put the Pioneer S-F1 in my office room.
Why the hell would I put so big speakers in such a small bad audio square room ? The reason is simple : I have nowhere else to put these big cabinets in the house. The APM-8 being some separated 4 ways speakers, it is hardly possible to listen music in near field with them. The S-F1 being some quadraxial and coplanar 4 ways speakers, near field listening is quite like listening to small speakers, so S-F1 it is for the office room ! I'll have to deal with it.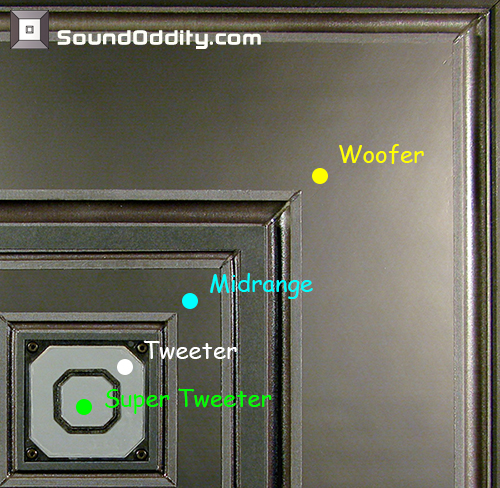 The room and listening conditions :
I wanted to be able to see outside, to not have the incoming door totally at my back and to be close from my computer when I'm working on electronics. Consequently I decided that my computer desk would be on wheels and that the room would have 2 configurations :
Config #2 seems more appropriate for music listening.
Config #1 is better for my work.
The right speaker is close to the outside doors which are old and thin with very thin glass windows. They actually vibrate when the sound is a bit loud. I will have to find a solution about that. The left speaker is close from the Speakers Repair Desk which is 60cm deep and has round feet.
Being at 38% distance from the front wall was impossible with the configuration of the room so I decided to put the listening position at about 38% from the rear wall, averaging the volume taken by the shelves and desks.
All this together led me to put the speakers at 50cm from the side walls, having 174cm between both centers. I built a nice Vintage HiFi furniture put in between and aligned with the front of the speakers.
I'm used to face big speakers inward by approximately a 3° angle, which gives a 27° off horizontal axis listening position. I have a small chair for music listening which put my ears at about 89cm from the floor with the tweeters being at 78cm from the floor. This makes a 4° angle off vertical axis listening position. I find this positioning acceptable considering the dispersion :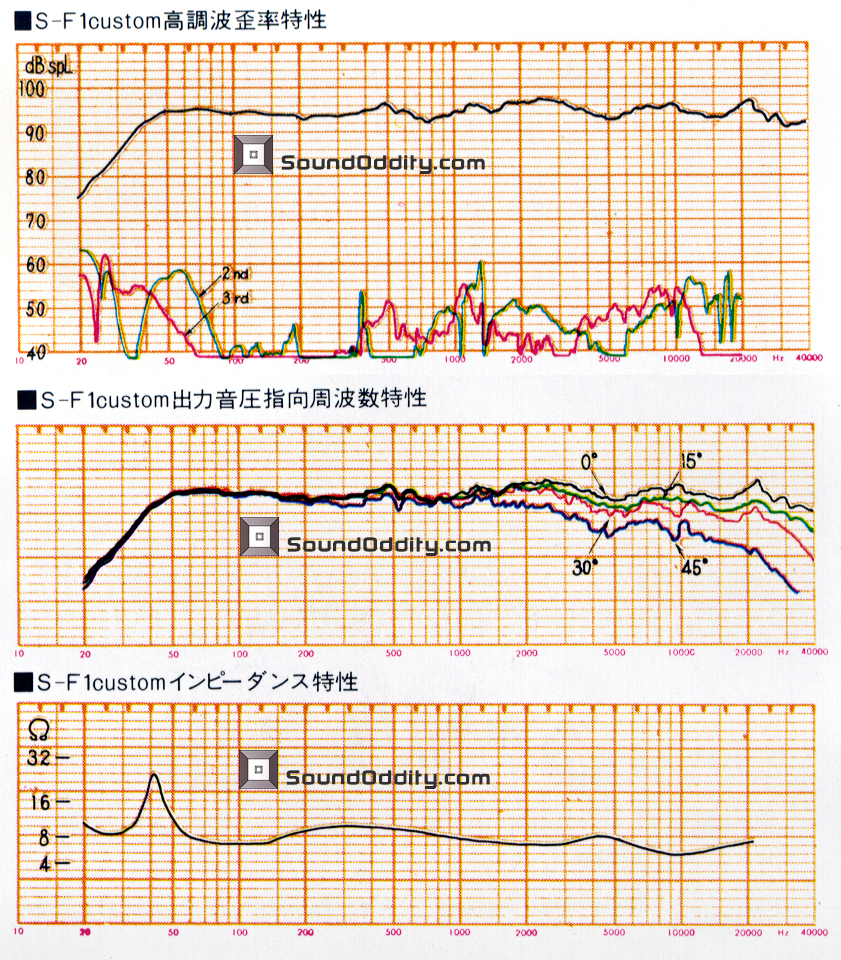 And this is the view that I can have while working on the computer. OK, there's better than that, but hey, after 10 years in the cold France winter I'm so glad to have this :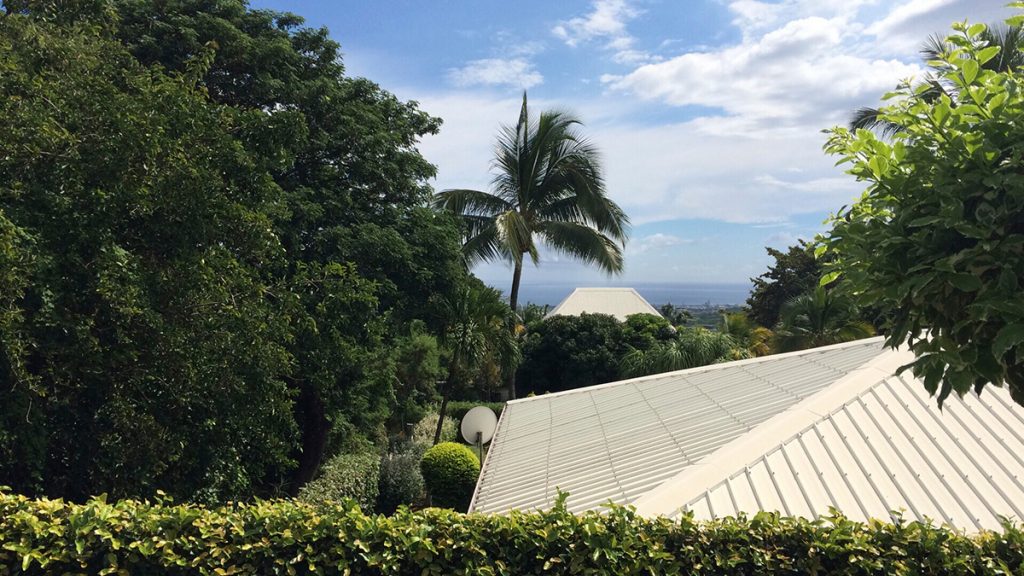 Back wall :
What about the height ?
The room is pretty high with a celling starting at about 3 meters and going up to 5,62 meters at the top. There is a mezzanine at 3 meters height where I put a part of my hifi collection in paperboard boxes.
Front wall :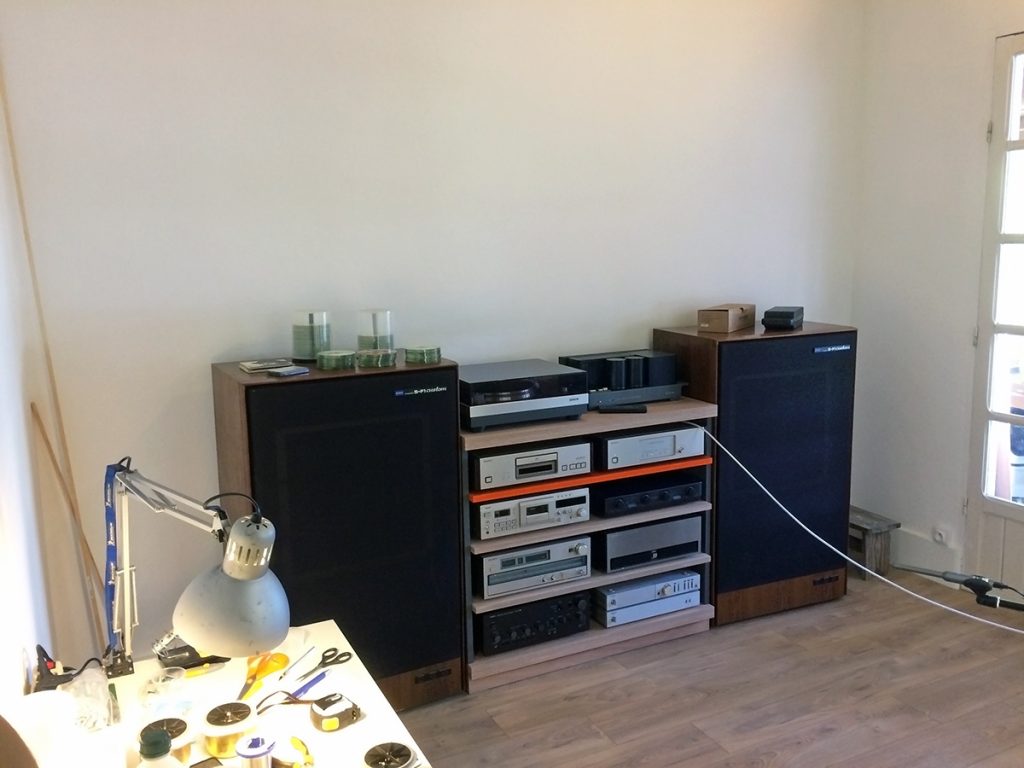 Audio system :
The chain is composed of a Sony CDP-R3 integrated cd player with the possibility to use a Sony DAS-R1 dac as well. A Sony TC-KA7ES K7 tape deck is used to record vinyls from a Sony PS-8750 turntable. Yes I also have the K7 nostalgia. This feeds a Kenwood L-1000C pre-amp which drives a Victor JM-S7 A class V-Fet power amp. Speakers are the x-rare Pioneer S-F1 quadriaxial and coplanar 4 ways speakers.
What about the sound ?
Well, in short : it is a disaster.
I mean one can always find a CD which will sound beautiful but the room is simply leading to catastropha as soon as the volume level is increased.
I know what this system is capable of in a better room and I can also feel the potentiel in this room. I now have to find solutions to make it sound OK.
Response-measurement system :
The chain of measurement is composed of an iMac 27″ late 2009 computer running on El Capitan, the REW software, a USB to 44KHz/48KHz coaxial interface, the Sony DAS-R1 dac, the Kenwood L-1000C pre-amplifier, the Victor JM-S7 power amplifier, the Pioneer S-F1 speakers and a mini DSP UMIK-1 USB mic positioned horizontally at listening position with a good mic stand.
Measurement results :
Zoom in !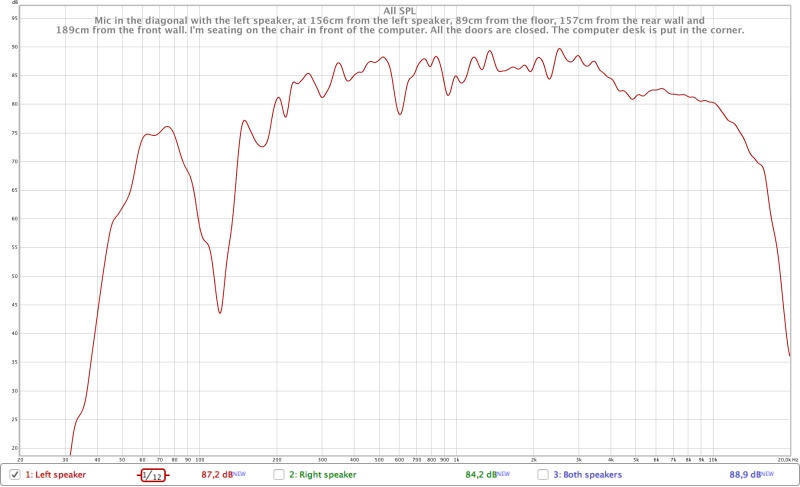 To be continued…